I've said it before - but I'm going to reiterate it again today - I am continually amazed at how God can use seemingly trivial, insignificant things in our lives to bring about BIG things. When I received a tutu from Shabby Apple back in April and wore it to chaperone the Middle School Semi-Formal I had NO clue that that big ball of pink tulle would lead me to a friendship with an absolutely amazing woman. When I decided to pass along the tutu and asked for nominations of women who could use some lighthearted fun in their lives in the form of a pink tulle skirt I received multiple emails about Ashleigh and her year long battle with Inflammatory Breast Cancer.
Ashleighs friends told me the story of how at 29 years old and 34 weeks pregnant with her second child, she had been diagnosed with Stage 3 triple negative inflammatory breast cancer. She gave birth to her second son right as her first turned 18 months old and has been battling for her life ever since. She has endured forty chemotherapy infusions, major surgery and 55 radiation treatments over the last year.
I met Ashleigh on Mother's Day weekend as she was coming back from a quick trip to Houston for scans on her back where she had been having some pain. She was relieved that the scans hadn't revealed any cancerous spots and was excited to celebrate Mother's Day with her boys.
At the end of May, Ashleigh had new scans which revealed that she has
THE most aggressive, fastest growing breast cancer possible - inflammatory, triple negative, metastatic, with 90%+ of her cells actively replicating. She went from a completely clear bone scan (right before she and I met) to a scan that revealed too many bone lesions to count as well as cancer
in her lungs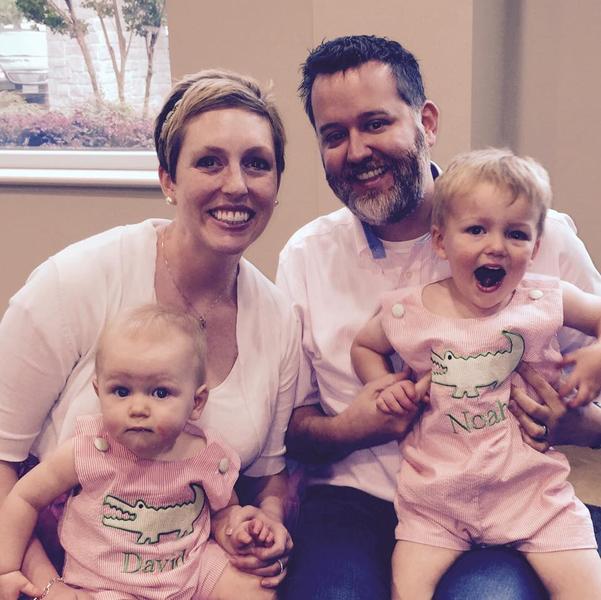 Since then, Ashleigh and I have been chatting via text and I've never been anything but blown away by her insight, perspective and sense of humor. It was in a text a few weeks ago that she told me that this year has been the best year of her life. Seriously. And that she wished that it wasn't her last because she was having way too much fun and had too many things to do. Her to-do list included big picture items like providing perspective to others about what really matters in life as well as providing hope to women with cancer - but it also included more tangible line items such as finishing her guest room :) and raising money for research for the disease that she was battling.
I'm a "do-er" and I've been wanting to "do" for Ashley and her family whatever I could to help out. Pretty much all of their needs have been taken care of, so when she mentioned raising money for research I jumped on the opportunity to help and "do". We were texting about t-shirt ideas when she texted me "Light and Momentary" and this verse...
Therefore we do not lose heart. Though outwardly we are wasting away, yet inwardly we are being renewed day by day. For our

light and momentary

troubles are achieving for us an eternal glory that far outweighs them all. So we fix our eyes not on what is seen, but on what is unseen, since what is seen is temporary, but what is unseen is eternal.
2 Corinthians 4:16-18
What a testimony! We ran with "light and momentary" and the
FABULOUS Caroline from Vine and Branches
created an amazing hand-drawn design for us to use on t-shirts and now I'm compelling all of you to order one and help Ashleigh fulfill one of her wishes, to raise money for research for inflammatory, triple negative and metatastic breast cancers.
ALL proceeds will go to cancer research and the navy and pink shirts are both available in children's sizes as well. PLEASE don't hesitate to let me know if you have any questions. The sale will end on July 15th at which point the shirts will be printed and shipped directly to you.
Please continue to pray for Ashleigh, Brad and their boys and you can keep updated on her via her blog
HERE
and/or her Facebook page
HERE
.
Now GO! BUY! DONATE!!! And tell your friends!!!
#prayforash